Spotless LCD Cleaning Made Easy
Published: 01/29/2008
This is going to be the shortest article I've ever written, but since I see people relying on so-called "screen cleaners" that really don't do anything but create dried residue smears, I'll let you in on a little tip that I picked up from an auto-detailing forum.
Go to your local auto parts store, pick up some quick detailer such as Meguiar's Quik Interior Detailer along with some quality microfiber towels (like those yellow ones from Costco). Now here comes the hard part...
Spray a mist onto your LCD screen, then wipe off with the towel in a circular motion. Allow me to illustrate: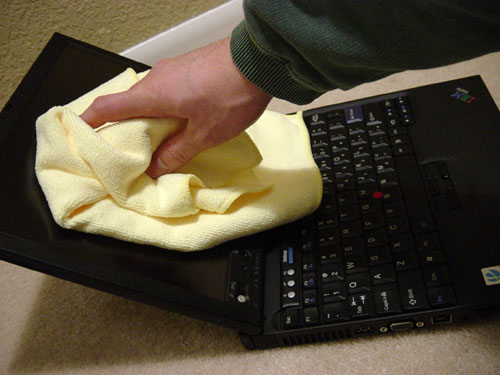 I wish I had known about this when I did desktop support. I never understood why users, as they point to their screens to show a co-worker some trivial cartoon on the Internet, have to press their dirty, greasy, chicken-wing handling fingers against the screen.
It's not a touch-panel, folks. It's your window to the virtual world represented by thousands of pretty pixels. Keep it clean.
---
Go back to the main articles list.